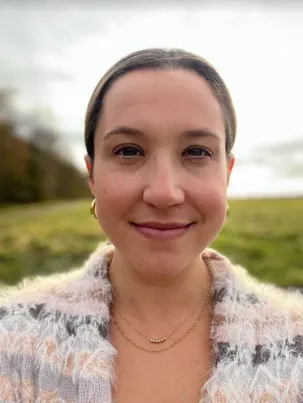 My name is Jess Salatino (she/her) and I am a licensed social worker specializing in working with people who are struggling with eating disorders, disordered eating and body image. I am a white, cisgender, straight, thin, currently able bodied woman. I have worked in a variety of levels of care and, as such, have experience working with people at various points in their healing process. In all of my work with clients, I strive to create a space in which clients feel safe, supported, and heard. I am neurodivergent affirming and LGBTQIA+ affirming. Since eating disorders move us away from our authentic self, our work together is often a process of supporting you in re-connecting with your values and self.

All of my work is informed by the Health at Every Size(R) principles and is weight inclusive. I recognize the ways that weight stigma and diet culture have caused harm and this understanding is incorporated into my work as I support clients on their path to healing. As someone who has healed from my own eating disorder, I know the importance of having treatment that is non-stigmatizing and recognizes how our varying identities impact our experiences in the world.
In addition to working from a HAES framework, I have training in cognitive behavioral therapy, dialectical behavioral therapy and acceptance and commitment therapy. I enjoy working with adolescents, young adults, and adults, and incorporate family based treatment when appropriate. Additionally, all of my work with clients is trauma-informed and practiced with an understanding of social justice. I also frequently work with people who have other presenting concerns as well, such as depression, anxiety, bipolar disorder, and OCD.
Outside of my work with clients, I enjoy spending time with my partner and our kids, as well as our two dogs Goose and Ruby. I love the outdoors and can't turn away from reality TV. I have a passion for music and there isn't a genre of music I don't like.
I am looking forward to the possibility of working together and supporting you in your healing process.